Post by Bill Webb on Jul 27, 2020 23:45:36 GMT
Maybe you are like I was. Buy an occasional vehicle, look at Diecast Direct's catalog, and we shook our heads that anyone would buy one of those ultra expensive Brooklyn models. Pay $40 for a car... nuts. Not me.
Then my good friend PTC mentioned that he was expanding his fleet dramatically. He needed fifty or more taxis, got hornswaggled into a partnership with that rascal C T, and then mentioned that he was going to upgrade his Brooklyn collection. And over a couple of months, their wonderful layout was transformed. Yes, a ton of lights were added, several other changes were made, but the additional vehicles brought it alive.
Next was the car contest. Choose the nicest car. Now subconsciously maybe Paula and I were paying more attention to vehicles and these were really really nice but we were not close to considering vehicles for our layout.
And we were to choose the nicest. To do that we had to look at least a little although it was obvious that the yellow Studebaker was the winner. Wow, these cars are really something special. And the spelling is Brooklin... gotta remember that.
Then treachery entered the picture, a spy in the midst. C T had to have a ride suitable to his presumed status and he enlisted his buddy Brian Vail, Esq to handle the deal. (You may not know but Brian acquired the Esq about this time after seeing it behind another member's name). Only the best for C T. And the loyal readers of O Gauge Forum were forced to endure a blow by blow description of the purchase ordeal finally ending with the subjection of S Claus as a business partner. The shame.
Thank you Gary for your gallant effort to uncover the truth. Please keep the RCMP on the case. It is bad news.
So, in addition to all the red tree haulers, we had to endure the introduction of a 1937 Buick Special 5 passenger Phaeton decked out in Sandringham Maroon with his honor the mayor as chauffeur.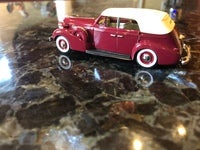 But, it was okay, the round house was being built on our layout and we were busy with it. Brooklyn's could be forgotten. There is a lot to do. Gary is handling the C T investigation. I just hope that our friend PTC is not too deeply involved.
And then lightning struck. Like a snake in the grass, the proverbial Spy came in from the Cold.
A package arrived on our doorstep.
I brought it in... and followed the Lysol spray procedure. As I sprayed, I noticed that it was for my trustworthy wife Paula.
"A package is here for you."
We talk about Paula being an airhead. She agrees. We are total opposites.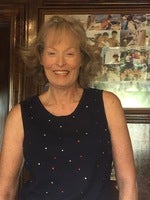 "Who is it from?"
Something in the back of mind said "Uh oh," as I read and said, "Diecast Direct."
"OH, I will be right there!"
Back of my mind was in high gear now, lights were flashing, sirens wailing; that tone of voice says something is up, BEWARE.
TO BE CONTINUED