Post by Bill Webb on Mar 21, 2020 1:00:42 GMT
Several years ago, Paula and I decided to build a layout and to have as one of the major features a Dennis Brennan seven stall roundhouse. The date on Dennis's letter that came with the kit is February 10, 2015.
Today we began construction and we plan to follow the build until completion.... whatever that means.
Introduction:
Dennis states that "This roundhouse is inspired by the Norfolk and Western Ry. roundhouse in Williamson, WV... Although not an exact scale model of that or any particular structure, my model employs a common concrete beam and brick architectural style typically found in commercial and industrial buildings.
Using artistic license, I've combined the finest features to create a distinctive and plausible design that will be an eye-catching focal point on any layout."
Quite a few of Dennis's roundhouses have been built. One of the best known was done by Laidoffsick and his dad. Doug has been a big help to us and we appreciate his willingness to assist. Paula said that I shouldn't put a picture of their roundhouse here; if you want to see it, check out his U-tube channel.
Layout
Paula's and my backgrounds both had connections to the N and W railroad. My grandfather worked for the N and W in Roanoke before moving to Suffolk, VA. I was born in Bluefield, W VA, moved to Suffolk at age 8, went to college at Virginia Tech within ten miles of the railroad, and returned to Suffolk. The N and W tracks follow U S 460, the route to Roanoke and Bluefield, for almost the entire distance. For us there could be no other railroad to model.
Our layout is about 38' x 20' with various differences, primarily due to zoning requirements when we added on to our garage. The layout will have three levels; the first is 42" off the floor and the track work is virtually complete. The engine service area which features the roundhouse is on the second level right side with steam service in the rear, 53" off the floor.
We have a Harry Hieke built rendition of the N and W passenger station which many of you have seen and which sits awaiting company in the center rear. Mountains and a coal mine are among other features that are planned.
We run command control and conventional, used to be 100% Lionel but no longer are, and DCS is our primary control system. Remotes provide main line control including track power and turnouts. Yards are controlled by Touch Toggles and eventually separate panels.
Added 3/21/20
Roundhouse Basics
This is a seven stall roundhouse and the walls are plaster. If you have not built a plaster structure, give it a try. It is relatively simple. Dennis offers a two story building, Universal Supply, Inc which will make a nice addition to virtually any layout.
A seven stall o-gauge roundhouse is, at least to us, BIG. We have a 34" Millhouse River Studios turntable which sits near the middle the right side. It comfortably holds any of the N and W articulateds as well as a Big Boy, etc.
The ideal distance for the roundhouse to be from the center of the turntable is 49.69" or 32.69" from the edge of the turntable. As the distance is reduced, track has to begin to curve and the minimum that will work is 21.24" roundhouse to turntable edge. We are about 25" away.
Imagine a building that is 41" across the front, 55.12" across the rear, and 38.24" front to rear. That is the eventual size of this roundhouse... and that is big.
The Kit
Dennis has done a magnificent job with this kit. His instructions are very detailed and are thorough. Everything is packaged and clearly labeled. Before receiving the kit we had been told how well it was done and we were in no way disappointed. This is the finest roundhouse kit that we have seen and we have looked at a lot of them over the years.
We won't forget the day that the kit arrived. The UPS man brought three boxes and a long tube. We promptly placed them on the dining room table. The table seats eight and the boxes took up about half of it.
Two boxes contain plaster walls. The walls are breakable, weigh 7.4 ounces, and most are 7.75" long. There are 19-20 walls. They are nicely packaged (Dennis is a master at this Pretty simple so far. Not too bad.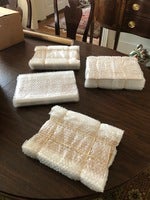 The tube contains wooden beams. Again, not too bad. We can get this done okay.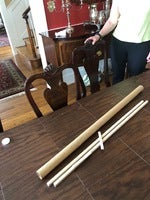 Then the third box. Uh oh. You open it up and it is totally jammed full of stuff. An envelope with instructions, blueprints, clear windows, bill of materials, packet after packet of wooden strips, tubes, roof panels, cardboard protected windows, doors, and a myriad of other items. More on this one later.
More later. Ready to start construction pics